About Zetsuen no Tempest
Zetsuen no Tempest (絶園のテンペスト), also known as Blast of Tempest: The Civilization Blaster is a Japanese manga series written by Kyō Shirodaira and illustrated by Arihide Sano and Ren Saizaki. It was adapted into an anime series by Bones which began airing on October 4, 2012.

Inspired by the works of William Shakespeare, especially his play The Tempest, Zetsuen no Tempest is a tragic tale that explores the balance of sanity and madness, sense and intelligence, and self-confidence and convictions. The story revolves around Mahiro Fuwa, a teenager whose family was mysteriously murdered one year before, and his friend Yoshino Takigawa. Mahiro is contacted by Hakaze Kusaribe, the leader of the Kusaribe Clan who was left stranded on an unknown deserted island by her followers, and he agrees to help Hakaze in exchange for her help to find out the culprit for the death of his family. Upon learning of his friend's intentions, Yoshino joins him on his quest to stand against Samon Kusaribe, who intends to awaken the Tree of Zetsuen whose power can bring ruin to the entire world.
Featured Article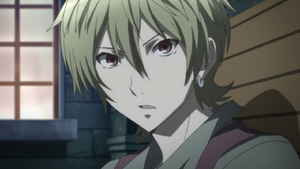 Mahiro Fuwa (不破真広, Fuwa Mahiro) is a boy whose family was killed one year before the series' start, including his father, mother and step-sister Aika . He is one of the main protagonists of Zetsuen no Tempest. In exchange for help to find the culprit behind the murder, Mahiro agrees with Hakaze's plan to stop the resurrection of the Tree of Zetsuen with Yoshino's help.Read more

Related Sites
Official Sites
General Sites
Community content is available under
CC-BY-SA
unless otherwise noted.